"The View From Here" - by Steph Cortes on Instagram
As I sit here upside down at the edge of my bed, listening to a weirdly awesome cover of "Electric Feel" by MGMT (which turns out to just be a really well-done remix) on
Pandora
, I type my very first blog post from my iPad2. And it's kinda awkward... And it's even a little uncomfortable. But most of all, it's
REALLY
freeing!
This is sort of what I imagined my iPad would be doin' for me: change the way I live my life. I could be off having the most amaze-balls adventures on the planet and I'd be able to tell you about from there!
Though as amaze-balls as these adventures may be, they would be much better if I knew how to share them with you all a bit easier.
After having a lengthy discussion about my severe lack of the knowledge of the modern technological advances in social media with my new friend, Tammy from
pUnK rAwK pUrL
(who, funny enough, I met via
Twitter
), we concluded that I need help! So, here goes:
Can you all recommend some awesome new apps for my iPad?
So far, I've found a few new faves after some research, which include:
-
Angry Birds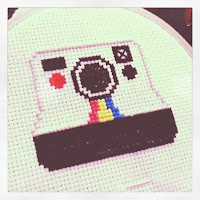 "A bit meta" - by Steph Cortes - shared on Instagram
Although I've stated that it was purely for my Research & Development (as I hope to release a line of Angry Bird amigurumi one day soon), I've gotta admit that more nights than not are ended with an hour of playing this game in the dark.
-
Instagram
Hugely due to the fact that I've recently become obsessed with old cameras, this app was an instant recommendation from Tammy. She happens to be a fab photographer, too! Follow her: @punkrawkpurl & follow me, if you're so inclined: @nerdjerk
-
Flipboard
Although I enjoy reading through my social media updates, sometimes they feel liken obligation! Not so in Flipboard! Imagine catching up on all your friends' updates in a rad magazine-style interface. With pictures from posts combined with the blog posts being pulled from the sites onto your Flipboard... It's like walking into a social dream & I kinda never wanna wake up!
-
Square
This app has changed the SF craft fair scene forever! And it's quite arguably the best credit card processing system n the market. Although I haven't had the chance to test mine out in public yet, Square is one of the reasons I had to buy an iPad! I'll let you know how it treats me at Maker Faire.
-
Pandora
I've loved Pandora for a long time, but playing the Coconut Records channel (pretty much all the time, as I've only had to skip maybe one song an hour on average) and doing whatever I may be doing at the time makes me feel like I've finally arrived in the 21st century.
A definite strike against the iPad, in my humble opinion, was the lack of a word processing application... that is, other then the "Notes" app. I thought it was some kind of joke. But, for what it was, it was helpful. Then Willo from Willotoons recommended iA Writer on Twitter. And when I read Stephen Fry's glowing review, I was SOLD! Simple, super clean & awesome.
Watch the following video for a demo of said awesomeness.
And last, but not least, there's the app that I'm using ask we speak... BlogPress is pretty impressive for what it is so far. Although I can't do all the fancy stuff I normally can do in Blogger (maybe I can, but I just haven't learned how to do it yet), one can appreciate the novelty of being able to produce a blog post from one's iPad. So, just for the novelty, it's worth the $2.99!
So, now that you all know my taste for apps, have you whipper-snappers got any recommendations?
Any input would be greatly appreciated, as I'm the technological equivalent of an 80 year-old woman despite the nearly 28 year-old body.
- Posted using BlogPress from my iPad [but finally edited with Blogger]